Hello CGA members and friends. This month I wanted to provide a few updates to let you know what is happening within the CGA and what you can look forward to in the near future. But before I get into the news, I want to remind everyone reading this that the SDSU leadership team is really hoping to continue learning about all the things that are happening around the state and all the great people who are working to create opportunities for students of all ages to become geo-literate and to learn to love geography. Please feel free to get in touch with me directly at cga@geography.sdsu.edu if you have any questions, want to share something that is happening in your school or district, or just want to introduce yourself. It would be great to get reports from "the field" that we could share in this newsletter, on our website, or on our Facebook page.
Visit with the CGA at the CCSS Conference in Oakland in March
The CGA will be well-represented at this year's California Council for the Social Studies Conference in Oakland on March 6-8. We will have an exhibitor booth to distribute maps and other materials and introduce people to the educational resources on calgeography.sdsu.edu. If you are knowledgeable about the CGA and would like to volunteer some time at the booth, we can provide free registration for up to 3 Teacher Consultants/Teacher Leaders who will commit time to enthusiastically represent the CGA. Please contact me to express your interest.
There are at least two CGA-based sessions on the conference program that you may want to attend or recommend to a colleague. I suspect there are other presentations being given by CGA members, so please share the information on any relevant sessions so we can promote them. For now, here are two I would like to promote:
> Friday, March 6th at 2:24 – 3:45 PM – "Geo-Literacy: Engaging Students in Spatial Thinking"
> Saturday, March 7th at 2:24 – 3:45 PM – "21st Century Learning + Online Tools= Next Generation"
What Kind of Professional Development Do You Wish CGA Offered?
The CGA has been focused on professional development supporting use of our awesome print atlas, California: Our Changing State. The atlas is a great resource, and the PD workshops have been wonderful, but this means we have been very focused on 4th grade teachers. We are thinking about ways to greatly expand our offerings across grade levels and subject areas, which leads me to pose a question to you all.
If you could put one topic on our wish list for future PD workshops, what would it be? You can send your suggestions to me, or better yet, post them to our Facebook page so everyone can see your idea!
Geo-Quest: A Broad Vision for the CGA and for Geography Education
Many of you will be aware of our efforts to move toward a next generation atlas that takes advantage of new technologies to incorporate expanded topical coverage, a high level of interactivity, and embedded content that helps teachers address standards and also meet the expectations of Common Core. This project gets us very excited, and our vision has been taking shape over months. It now has a new name: Geo-Quest: California's Education Portal.
The Geo-Quest project is an innovative approach to enhancing student understanding in the fields of history-social science, physical sciences, and other content areas at multiple scales. It is also a direct response to calls for greater civic responsibility and leadership development. As argued in the C3 Framework, "Now more than ever, students need the intellectual power to recognize societal problems; ask good questions and develop robust investigations into them; consider possible solutions and consequences; separate evidence-based claims from parochial opinions; and communicate and act upon what they learn" (NCSS, 2013, pg. 6).
Geo-Quest will provide young people with the tools and scaffolding needed for in-depth learning and will foster critical thinking through independent and project-based investigations into important social and environmental issues. Providing students with these tools is crucial in order to help them become active, geo-literate, and knowledgeable citizens who succeed in college, career and civic life.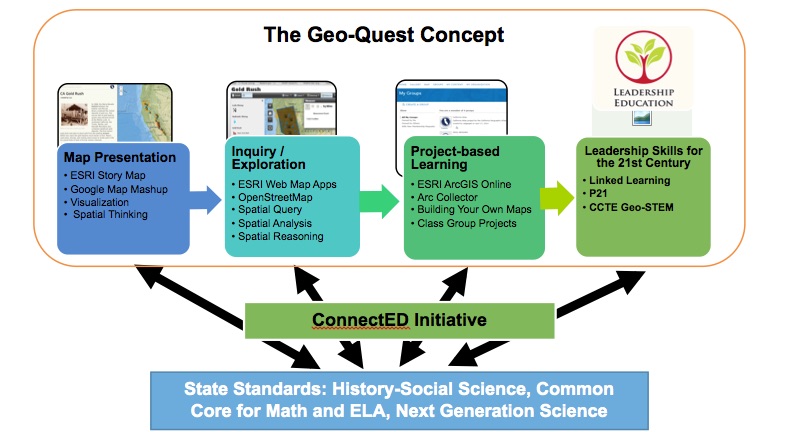 As the world becomes more interconnected through globalization, geography education and geo-technologies can help students make sense of rapid global change. Understanding how spatial relationships link communities can help students appreciate intricate – and often unexpected – connections between themselves and distant places across the state, nation, and globe. This knowledge can foster more in-depth understanding on how people live – socially, culturally and environmentally. Ecological relationships are also critical to geographic education; understanding ecological interdependencies can help illuminate how human actions shape environmental change (c.f., Heffron and Downs, 2012).
Using geo-technologies, we can map, record, analyze and communicate ecological and human population change over time. In states like California, where we are experiencing the worst drought in recorded history, visual and hands-on geo-technologies can help students comprehend the magnitude and impacts of this drought in a more profound way. Geo-Quest is important because it will help develop independent, critical thinkers who are technologically- and spatially-literate 21st century global citizens.
Geo-Quest represents the aspirations of the CGA to become a hub for critical thinking and young people's leadership as well as geography education. As a portal, Geo-Quest defines a space within which teachers and students across the state can build geographic knowledge and skills, encounter issues and data sources, and interject their own ideas and analyses. In addition to supporting students in making their schoolwork relate directly to the challenges of the world in which they live, we think this approach will encourage collaborations with other entities in California, including geography departments at our colleges and universities.
You will be hearing more about Geo-Quest in the coming months and years. You will be able to watch it take shape on our website – even now, click on the Atlas 2.0 menu item to see some really cool things. CGA will provide professional development to assist teachers in using Geo-Quest in a variety of ways, and over time it will become a collaborative space where curated resources and user-friendly tools meet with the energy of educators, learners, storytellers, and problem-solvers.