As a follow up to last month's newsletter, we're very pleased to share the award-winning student essay written by Mariana Fernandez, a sophomore in the World Literature program at the Academy of Our Lady of Peace in San Diego. The prompt for Mariana's essay was: How does our study of girls around the world help us better understand the true meaning of the word hero? Next month, teachers Katie Turner and Laura Rodriguez will share their World Literature curriculum and describe how they incorporated geo-literacy into their classrooms. Congratulations again to Mariana Fernandez for her inspiring essay!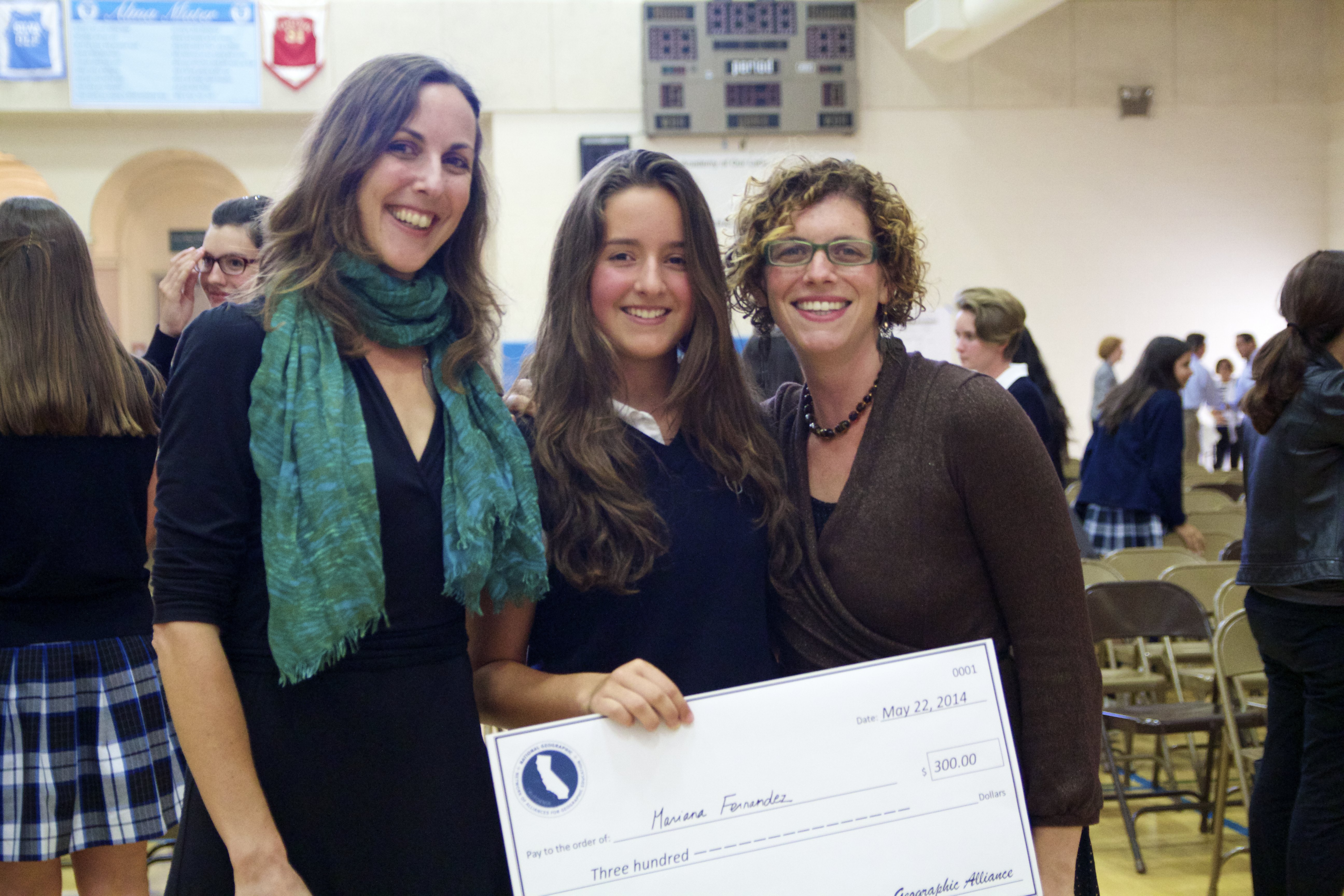 Change the World Literature
by Mariana Fernandez
On the first day of sophomore year, I walked into my World Literature classroom with the mindset of a girl who just wanted an A in the class in order to have a solid application for college. I came in and mentally prepared myself for the mindless note taking and quizzes about plot and character that I would probably have to endure. I sat down and looked up at the front of the room as I slumped in my seat.  Right there, in the middle of the whiteboard, were the words "change the world literature". Back then, I had no clue that those words were true and that I would walk out of the classroom with a completely different perspective about the world. I did not realize that this would be one of the classes I can say changed my life. This year, I am leaving World Literature as a girl who will do all she can to change the world.
Throughout the year, I was taught to understand different characters, from around the world that came to life for me as a result of each author's harmonious placement of words on paper. I was also given an opportunity to use that knowledge and understanding of heroic characters to develop my own idea of a hero, who I named Anna. To summarize, I was given the opportunity to actually use the things I learned in class in order to form the girl who will walk out of my high school in two years, ready to change the world.
If I had to choose a few characters who, through literature, changed my perspective about the world, they would include Guy Montag, created by Ray Bradbury in Fahrenheit 451, Liesel Meminger, given life by Marcus Zusak in The Book Thief, and Marji, formed from personal memory by Marjane Satrapi in Persepolis: The Story of A Childhood.  Montag lives in an American dystopian society that is opposed to any sort of intellect; Liesel is a girl living in Nazi Germany, a time when certain books were banned and questioning the Nazi's methods was dangerous; Marji lives in Iran, during the time of the Islamic Revolution. Similar to Montag and Liesel, Marji's curiosity and will to learn is suppressed by seemingly irrepressible forces. When placed apart these are just ordinary heroes who can only teach a girl like me so much. In other words, I can discover as much by just focussing on one of these heroes as I would if I tried to learn about World War II using only my country's perspective. However, when I place them together, I am able to gain a real understanding of what it actually means to be a hero. I understood this definition of heroism when I took a step back and looked at the big picture: three characters who come from completely different parts of the world become heroes against all social, political, and cultural odds. These characters have different cultures, which makes them approach their challenges differently, but the fact that three different paths lead to the same destination, shows that a certain language or the color of one's skin isn't what makes someone a hero. A person becomes a hero because of the courage she has to take a step onto the rocky path that leads to change.
One of the biggest struggles shared by each hero is finding her voice amongst a society that is constantly trying to quiet her. They have trouble accepting that no one is going to speak up and say that what their society is doing is wrong.  However, in the end all of these ordinary people somehow find the courage they need to act out against injustices. In The Book Thief, Liesel has "twenty seconds of insane courage" as Benjamin Mee said in We Bought a Zoo, directed by Cameron Crowe.  She literally crosses her own threshold and grabs a book from the fiery flames of a famous Nazi book burning, in order to learn to read. In Persepolis, Marji also musters up this same courage when she raises her hand in class to contradict the unfair teacher, and fundamentalist practices as a whole. She stands out among the other students who simply agree with the status quo, like mindless drones who fear thinking a single independent thought (Satrapi 144). In Fahrenheit 451, Guy Montag does not have super strength, or any other superpower like Superman. Instead, he is an average person who chooses to become an outlaw instead of living in a place where education is banned. I admire the courage he must have in order to do what is right, even when he knows that the consequences will be horrible.
All of these characters change the common definition of the word hero. They are not magical beings with preposterous powers; none of their actions result in a huge revolution; but, in my opinion, what makes them heroes is the fact that they have that insane courage to question what they are led to believe and to take leaps of faith. This new idea about what it means to be a hero inspired the creation of Anna, my own hero, who I developed throughout the semester as a class Pinterest project on geo-literacy.
Anna is the result of every character, every conflict, every idea (even every homework assignment!) I encountered during World Literature. She is the person who I hope I will become in the future. Anna is a girl who is not afraid to speak out against injustices that occur in her society. Injustices such as bullying occur all around her. Of course, stopping the bullies would mean that Anna may not be "popular" or well-liked. However she does not fear the persecution that will follow her attempts to be true to herself and true to her beliefs. The fact that she doesn't care about the consequences of choosing what is just over what is wrong is what makes her a superhero and motivates me to become a hero in my own society. In a letter written to high schoolers just like me, e.e. cummings once said, "to be nobody but yourself in a world which is doing its best, day and night, to make you everybody else means to fight the hardest battle which any human being can fight; and never stop fighting." My superhero alter ego may not have saved a million lives yet, but she is a hero because she has the courage to be herself.
After learning about Marji in Iran, Montag from a dystopian future in the United States, and Liesel in Nazi Germany, it is now my turn to adapt their courage and bring Anna to life. I used to think that changing the world meant creating a huge revolution that completely erases the current structure, much like the systems that try to stop people like Marji, Montag, and Liesel from growing.  I now know that all I need to do to change the world is create a tiny ripple that will change at least one life. This tiny change causes people to question the rules and realize when there is something wrong. Basically, in order to be a hero, I must find the courage to create commotion. This commotion will probably result in people being perplexed that I dared to question the "norm", because after commotion, people try to fix things and go back to "normal" life. My commotion will help them realize there are things that need fixing for the better. The heroes I met, not only from Germany or Iran, but from Nepal, India, Peru, Sierra Leone, Egypt, Ethiopia, and Afghanistan as well, cause a commotion in me which inspires me to create waves. I have decided to create commotion, and though I may not be the one who changes the whole world, I will be a part of those who inspire this change.
Works Cited
Bradbury, Ray. Fahrenheit 451. Evanston: McDougal Littell, 1998. Print.
Satrapi, Marjane. Persepolis. New York, NY: Pantheon, 2003. Print.
Zusak, Markus. The Book Thief. New York: Alfred A. Knopf, 2006. Print.