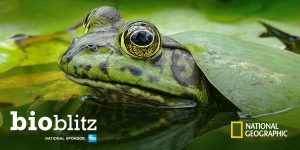 To join in the celebration of the National Park Service's 100th birthday and to extend student involvement in a fun, and impactful learning activity, the Network of Geographic Alliances has launched a national initiative to expand BioBlitzes in the 2015-16 school year.  We are working to get students involved in BioBlitzes at our National Parks, at state and local parks, and in their own schoolyards and community open spaces.
A BioBlitz is a learning activity, but it also contributes to the advancement of science.  This is called "citizen science" or "crowdsourcing," and it uses the participation of large numers of people to increase our ability to observe and understand the planet.
National Geographic has been involved in BioBlitzes for years, and you can find videos, resources, and learning activities at their special BioBlitz page.
In California, there has been tremendous enthusiasm for expanding participation in BioBlitzes.  This effort includes a tremendous group of partners, many of whom are joined together in the California Outdoor Engagement Coalition.  To support activity in our state, we have created the California BioBlitz page.  Check it out for more information and a calendar of events in the state.