As a key sponsor of the Cabrillo Urban Island BioBlitz in San Diego, the CGA helped bring 250 High Tech High elementary school children to the park for a 24-hour BioBlitz on May 21st. This very successful event was organized in coordination with National Geographic, the National Parks Service and 119 other participating parks across the United States.
Kids had a wonderful time at the event. There were 68 exhibitors set up at the BioBlitz headquarters, offering an array of hands-on activities for kids. At the CGA exhibit, children had the opportunity to go on a BioBlitz scavenger hunt to help them with their map reading skills. Thanks to our SDSU Department of Geography cartographer, Harry Johnson, visitors were also able to examine an amazing air photograph and topographical map of Cabrillo National Park.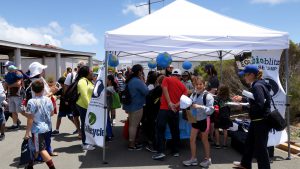 Participants in the Cabrillo BioBlitz collected an incredible array of species observations. In fact, over the park's 166 acres, citizen scientists logged 1,551 observations of 405 different species. This placed the Cabrillo BioBlitz as #3 in the nation for iNaturalist BioBlitz observations!
To see these observations, please visit the Cabrillo BioBlitz iNaturalist site: http://www.inaturalist.org/projects/6824/stats_slideshow