On November 15, the topic of the day at the California Department of Education was Geographic Information Science.  More specifically, an internal event organized by CDE staff encouraged staff from a number of different departments within CDE to explore the potential of GIS as a tool in education.
The event had three components aimed at engaging the audience of education professionals.  CGA Director Tom Herman and CGA Geospatial Technology Coordinator Dr. Ming-Hsiang Tsou joined Dr. Hugh Howard (American River College) and a GIS Specialist for the Army Corps of Engineers on an expert panel.  A highlight of the day was hearing from a group from the Math Science & Technology Magnet Academy at Roosevelt High School in Boyle Heights.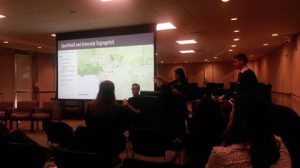 The students attended with their outstanding English teacher, Alice Im, and presented their work examining relationships between school segregation and graduation rates and exploring environmental racism by comparing the health problems and government responses related to the Porter Ranch gas leak and the Exide Technologies toxic contamination case in Vernon.  The CGA also hosted an informational table with our friends from The History Project at UC Davis to share GeoInquiries and how we are helping educators to engage their students in geographic inquiry using GIS.
One important message from the day was that GIS provided powerful tools for managing resources and making decisions in complex environments, but the value of GIS is unlocked by human understanding.  People still need to be able to ask good questions, and this means geography education is foundational and must be strengthened if we are to fully benefit from the potential of GIS in education and society.
The CGA was thrilled to be able to support this event, and we look forward to more exciting developments coming out of the State Department of Education regarding geography.