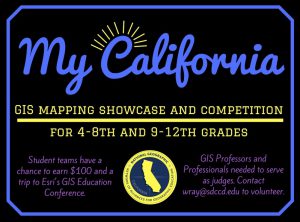 The CGA's first ever statewide GIS mapping competition for 4th through 12th grade students has concluded.  5 students projects have been selected as state finalists in each of two divisions.  The authors of each project will be awarded a prize of $100, and the projects will be advanced to the national competition.  5 other projects have been selected for Honorable Mention.
The CGA wants to thank:
the NorCal Chapter of URISA and the California Geographic Information Association for their generou

s

support of this competition;

the 29 schools that registered for the competition, including all the teachers and students who invested their time in creating projects about their state;
all of the judges who lent their time and expertise to scoring the entries and selecting the very best;
and Dr. Waverly Ray who took the lead in coordinating the competition and brought enthusiasm and skill to the task!
Without further ado, we present the winners.
In the middle school (4th-8th grade) division…
In the high school (9th-12th grade) division…
And also deserving of honorable mention are the following projects.
In the middle school (4th-8th grade) division…
In the high school (9th-12th grade) division…