On October 16, 2015, the CGA provided a workshop on using ArcGIS Online to a group of 18 enthusiastic high school educators who teach science, social science, journalism, and career technical education courses at Placer UHSD.  Gregg Ramseth, the district's director of technology and assessment, has led the way in utilizing the free AGO Organizational accounts made available by Esri as part of the President's ConnectEd Initiative, and a number of the teachers in the district are stepping up and engaging in the technology.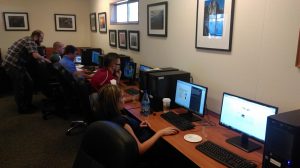 Teachers Robin Herrnberger and Greg Sloan participated in the first workshop held at Placer UHSD in the Spring, and then they attended the GeoTech Center summer workshop held at San Diego State University.  They are now eyeing the possibility of attending Esri's T3G Institute in the Summer of 2016!  Greg will begin acting as an instructional coach for the district in January, which will further assist the district in supporting the inquiry-based learning promoted in the C3 Framework, engaging students in the kinds of practices called for in the Next Generation Science Standards, and building 21st century job skills.
Greg and Robin are demonstrating how teachers can ramp up their own skills in order to utilize the GIS software to its fullest educational potential, but at the workshop we also emphasized that teachers can make good use of ArcGIS Online with minimal training on their part.  Teachers explored the standards-based GeoInquiries that Esri has created for teachers of earth science and history, and they also found that they could create their very own simple map within a matter of minutes.
The CGA looks forward to continuing to support the Placer Union High School District.  Other districts interested in taking advantage of the free, industry-standard GIS software now available to K-12 schools should visit http://edcommunity.esri.com/ and reach out to the California Geographic Alliance to schedule a teacher professional development workshop.