From July 15-17, the Spatial Analysis Lab at San Diego State University's Geography Department was buzzing with energy and exciting ideas.  Twenty-one educators were receiving their first instruction in using geographic information systems, having conversations about how the technology could enrich teaching and learning of history and geography, and establishing free ArcGIS organizational accounts for 13 high schools, plus the San Diego History Center and the Girl Scouts of San Gorgonio County.  The California Geographic Alliance (CGA), which is funded by the National Geographic Education Foundation, organized the professional development workshop with support from leading GIS software provider Esri, as part of their participation in President Obama's ConnectED Initiative.  Teachers, educational technology resource teachers, and curriculum specialists from San Diego City Schools and Sweetwater Union High School District made up the majority of the group, but they were joined by 4 pre-service teachers who recently completed the Linked Learning program at SDSU, as well as a museum educator and a STEM Program Manager for the Girl Scouts.
Guided by Professor Ming-Hsiang Tsou (who serves as CGA's Geospatial Technology Coordinator) and experienced mappers and patient mentors Cynthia Paloma and Yi-Ting Chuang, workshop participants learned to use ArcGIS Online to create their own web maps, build story maps that integrate maps with other multimedia content, and even use crowdsourcing to collect observations in the field that feed directly into a web map.  They were motivated by the possibilities presented through the tools made accessible by Esri, and they were quick learners.  By the end of day one, teachers were presenting their own maps!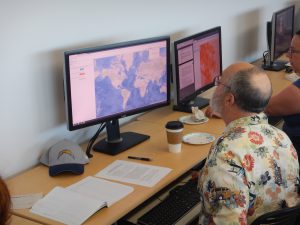 CGA's Professional Development Coordinator Emily Schell (who is also Executive Director of the California International Studies Project) and teacher leader Trevore Humphrey then helped the educators think strategically about how to integrate GIS into the classroom to create dynamic standards-based learning experiences and enhance students' understanding of the world.  Each educator is now working (independently or in a team) to develop a new educational resource for use in their own classroom.  With input from the other participants and CGA staff, these resources will be refined and then shared with other teachers via the CGA website (www.calgeography.org) and future professional development workshops.  The educators who came to the workshop are now part of the CGA team working to unleash the power of geospatial technology!
"Thank you so much for including me in the GeoQuest training last week. I enjoyed the opportunity and I look forward to moving forward with new programs based on what I learned. I already have a meeting scheduled for next week with a girl who is interested in using a Story Map as part of her Silver Award project. I look forward to continuing to work with all of you as I build up our GIS based programs."     – Carrie Raleigh, Girl Scouts of San Gorgonio County
"Thank you for putting on such an amazing learning opportunity for teachers.  I was in amazement all day at the level of excitement.  This will carry into classroom practice.  I appreciate the efforts the team went to in order to make this an engaging experience."
     – Linda Trousdale, Director of Teaching and Learning, SDUSD
A particularly exciting aspect of the GeoQuest JumpStart Workshop was the fact that it continued and supported work that the CGA has been involved with to design and launch a new year-long Human Geography/World Geography course in Sweetwater Union High School District.  Four of the participants in the workshop were SUHSD teachers, and it was exciting to see them using ArcGIS Online to create  teaching and learning tools that will make the new course dynamic and enable students to develop spatial thinking and geographic reasoning skills.  One teacher is creating a Story Map illustrating how the development of the Silk Roads and associate international trade facilitated the transmission of religious philosophies and institutions, another is illustrating commodity chains and globalized business practices associated with fast food meals, while a third project will follow the experiences of the Lost Boys of Sudan from their initial experiences in their war torn homeland to their relocation and experiences as refugees in the San Diego area.  It is exciting to see teachers using such a variety of issues and stories to help students gain insights into the power of geography.  The CGA team is thrilled to be able to collaborate with Sweetwater's Human Geography team.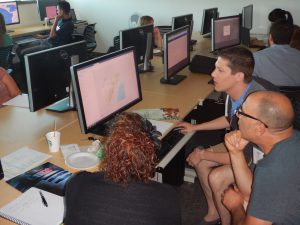 The workshop was the first event coordinated as part of the CGA's GeoQuest Initiative.  GeoQuest seeks to integrate geographic perspectives and the tools of geographical analysis into a diverse range of courses at all grade levels, with an overall focus on building 21st century leadership and problem-solving skills that will enable the U.S. to address the challenges of sustainability, economic competitiveness, and global security while at the same time embracing a diverse citizenry and their varied experiences.  The CGA works to promote geographic literacy and support geography education – at all grade levels and in out-of-school programs as well as formal educational settings.  While just one of a network of alliances, California is where the first geographic alliance was established in 1982.  SDSU's Department of Geography has served as the host institution for the CGA since 2013.