Written by CGA Geospatial Technology Coordinator Ming-Hsiang Tsou
What are the key skills required for a team leader? An effective leader needs to provide a 360 degree perspective and to have capabilities to solve problems by using multiple tools with limited resources. With hands-on skills and technological expertise, a team leader should be able to communicate with his/her team members effectively and to accomplish challenging tasks with collaboration from multiple people in different fields together. All these leadership skills and trainings are the key components in Geography and GIS education. As a teacher of Geography and GIS, I would like to ask every Geography teacher and GIS educator to re-think the goals of Geography and GIS education. To equip students with leadership skills and deep-thinking capability, we should transform Geography education toward the development of team leadership for our community.
Understanding local to global challenges, learning geospatial technology and tools, using geo-enabled devices effectively (such as smart phones and navigation systems) are exemplars of important geography education content that can build the fundamental skills of team leadership for students. These examples were highlighted by Dr. Joseph Kerski during his colloquium speech on September 12th, 2014 at San Diego State University.
In our GIS education community, Dr. Joseph Kerski is a perfect example of a true team leader who is also an outstanding geographer. With a full house at SDSU's Colloquium on Friday afternoon, Dr. Kerski delivered an insightful and inspiring presentation focused on learning geospatial tools and thinking critically and spatially about our world.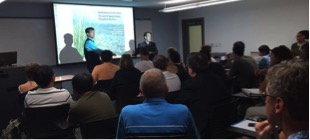 It is a great honor for California Geography Alliance and the Department of Geography to host Dr. Joseph Kerski's colloquium. Dr. Kerski received his Ph.D. from the University of Colorado in 2000. He is the Geographer and Education Manager at ESRI and an adjunct Professor at University of Denver. With an impressive publication record (five books and over 40 journal articles, papers, and book chapters), Dr. Kerski is probably the most well-known GIS education "guru" in the world.
To demonstrate the definition of "guru", I would like to share the SDSU story map made by Dr. Kerski when he just arrived to SDSU in the morning before his talk (Figure 1). Here is the actual link: http://www.arcgis.com/apps/MapTour/?appid=61035b310fcd425dbf9d722da62c80de. He created this wonderful Story Map by using his mobile phone only and revealed these beautiful scenes around the campus visually and spatially. Very cool and effective!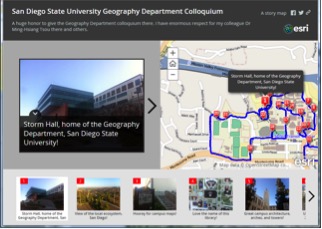 Joseph is my life-long friend (over 18 years) and one of the most admirable scholars in the GIS community. He and I spent 4 years together in the University of Colorado at Boulder during our Ph.D. programs.
In order to share his great presentation to the members of California Geography Alliance, we have posted a few sections of his colloquium videos in our YouTube Channel. You can access them from here: http://calgeography.sdsu.edu/featured-talks/.
Let's train our next generation of geographers to become the team leaders in the 21st Century!
Ming from San Diego
mtsou@mail.sdsu.edu