California Atlas Workshops for 4th Grade Teachers
The CGA offers FREE 6-hour professional development workshops designed to provide teachers with resources and lessons that align with the 4th Grade California Academic History-Social Science Standards. Participating teachers will receive…
A FREE classroom set of the California Atlas, only available to teachers through the CGA;
FREE classroom materials including maps, books, and lesson plans valued at over $250;
Exciting ways to engage student interest, inquiry, and thought;
Map reading skills to support California's unique geography;
1/2 semester unit from University of San Diego for an additional fee;
Morning refreshments and lunch.
There are currently no atlas workshops planned as we have distributed our full print run of atlases. We are working on updating the atlas and hope to offer more workshops soon, so check back for updates.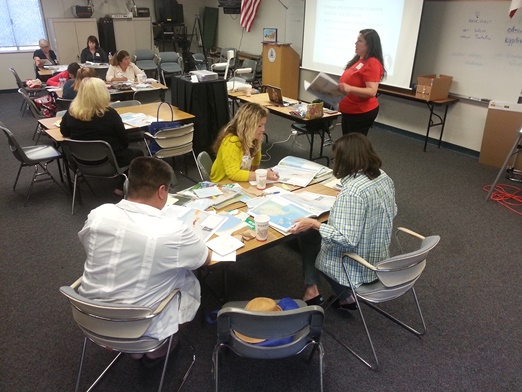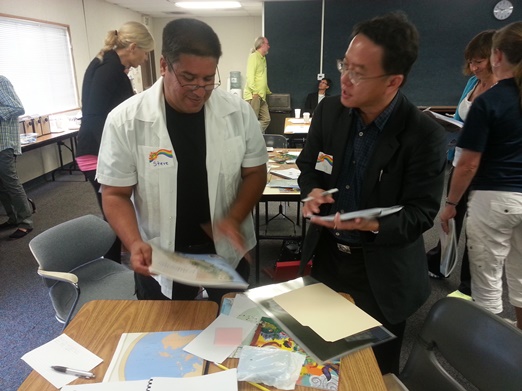 USS Midway Museum's Summer Institute for High School Teachers
CGA was a co-sponsor of the USS Midway Museum's 2014 Midway Institute for Teachers. The institute, held aboard the USS Midway in downtown San Diego during June, 2014, offered two weeks of professional development on teaching about the Cold War era, its origins and effects, the Korean War, the Vietnam War and era, and presidential decision-making. We value this opportunity to support a unique teacher professional development program and look forward to future collaborations.
For more information and to apply to this program, go to: http://www.midway.org/midway-teacher-institute
Please indicate on your application that you are a CGA Member. Travel costs and stipend are provided.
Note: The CGA will again be a partner and co-sponsor of the USS Midway Museum Teacher Summer Institute for 2015, so CGA members should contact the CGA at cga (at) geography.sdsu.edu if they want to be considered for one of CGA's reserved places at the institute.
The Sixth Annual NGTC Geospatial Technology Summer Workshop, 2014
The National Geospatial Technology Center of Excellence, in partnership with Southwestern College (SWC) and San Diego State University (SDSU), hosted the sixth annual NGTC Geospatial Technology Summer Workshop. The workshop was held in the brand new Geospatial Technology Lab on the campus of SDSU from July 8 -10, 2014. The workshop engaged high school and community college faculty who had previous experience using geospatial technology tools. [download id="447″]