The California Geographic Alliance is hosting an exciting statewide mapping showcase and competition that encourages middle (4th-8th grade) and high school (9th-12th grade) students to harness the power of Geographic Information Systems and get connected with their state by producing an online map that focuses on stories, issues, or ideas that are important to them.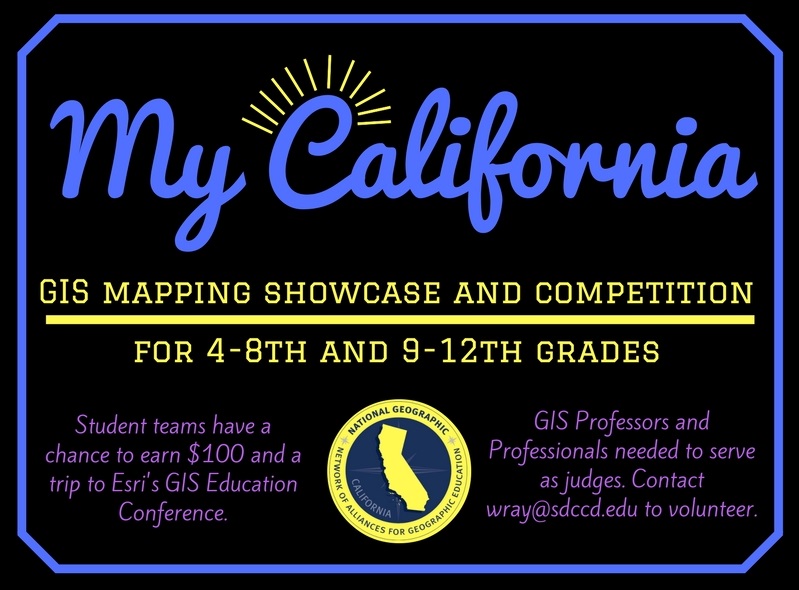 Here's how it works:
Schools, classroom teachers, afterschool program coordinators, extracurricular clubs (e.g., 4-H, Girl Scouts) and homeschooling parents register here.For afterschool program coordinators and extracurricular clubs, please coordinate with a teacher (or school) to offer the first-tier of judging at the school level.Registrations are due by March 15, 2017!
Students may produce maps as part of a class, afterschool activity, extracurricular clubs, or homeschool activity. All student maps must be created using an ArcGIS Online Organization account as a "presentation," "web app," or "story map."  For more information on Organization accounts, click here. Scroll down to see the Design/Judging Criteria.
Each participating school selects up to 5 submissions to enter in the statewide competition. Entries will be accepted March 15 – April 24 only!
All entries in the statewide competition are exhibited on the CGA website while a panel of judges scores the entries for informational content and cartographic execution.
The CGA will announce the winning entry in the High School and Middle School divisions on May 16. These entries will be submitted to Esri for judging as part of their national mapping competition.
Esri will announce its awards decision by 5 pm Pacific Time on Mon June 5, 2017. Esri will provide a travel grant to one high school team and one middle school team, each team consisting of the student(s) and at least one parent/guardian (could be teacher/rep). Awardee teams must agree to attend the Esri Education GIS Conference ("EdUC"), Sat July 8 through Tue July 11, 2017.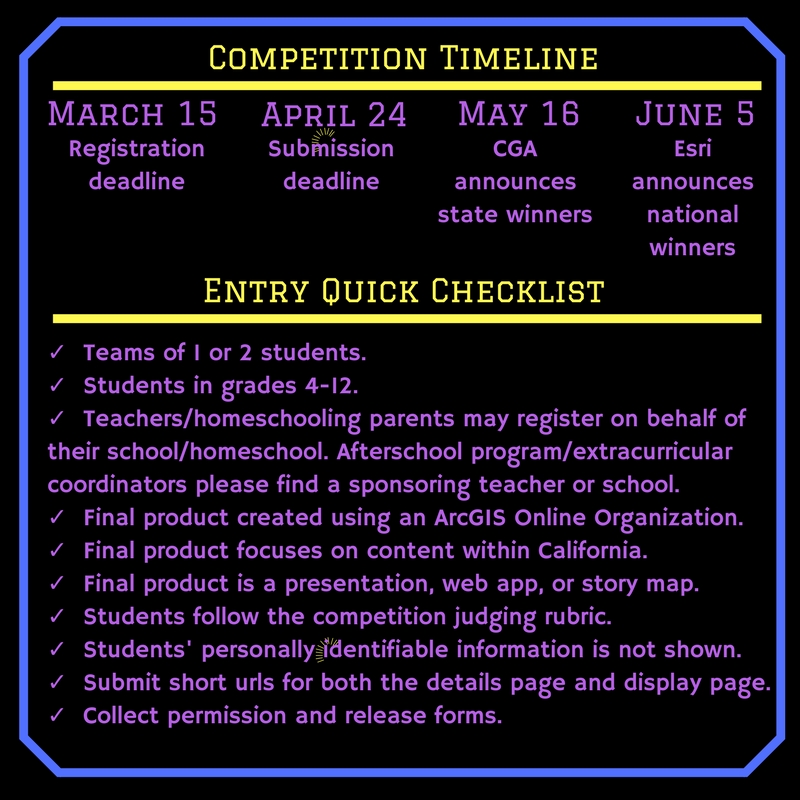 Contest Details:
I. Eligibility:
Entrants must be pre-collegiate students registered in grades 4-12, from public schools or non-public schools including home schools, under age 19, who have not yet received a high school diploma or equivalent.
Students can work singly or in teams of two, but can participate in only one entry. Teams with one student in middle school (gr.4-8) and one in high school (gr.9-12) must be considered as high school.
Entries must come from a recognized school or home school, even if the entrants are working on the entry in an out-of-school club.
Any school or home school program can submit to the state a maximum of five (5) entries total, counting the sum of middle school and high school entries.
Entries:
Upon registration, the permission and release form and the digital entry form will be sent to the registered email address.
Entries must be from an ArcGIS Online Organization account. Any US K-12 school (including public, non-public, or home school) can request from http://www.esri.com/connected#school an ArcGIS Online Organization account for instruction for free.
Entries must be an ArcGIS Online "presentation" or "web app" or "story map".
Entries must focus on content within the state borders. The project may reference data outside the state "for context," but may not extend the focus of the study beyond the state borders. For example, broader patterns of environmental characteristics or demographic movements may be referenced for context, but the focus must be on phenomena within the state.
Schools must announce their own internal deadlines, in time to complete judging and provide information to the state by its deadline.
II. Awards
CGA will announce state winners in both the middle and high school categories by 5 PM Pacific Time on May 16, 2017. These state-level winners will be entered in the national competition.
Esri will announce its awards decision for the national competition by 5 pm Pacific Time on Mon June 5, 2017
Esri will provide a travel grant to one high school team and one middle school team, each team consisting of the student(s) and at least one parent/guardian (could be teacher/rep). Awardee teams must agree to attend the Esri Education GIS Conference ("EdUC"), arriving by 10 am PT Sat July 8, and staying through at least 4 pm PT Tue July 11, 2017. Awardees will be responsible for handling any tax implications, be personally identified including name and photograph, and post a graphic in the Esri User Conference ("UC") Map Gallery on Mon. Awardees will be recognized at EdUC on Sat and UC Map Gallery on Mon, and likely have additional attention.
III. Design/Judging Criteria
Entries should be analytical in nature, map-centric rather than photo-centric.
Entries must be visible without requiring an ArcGIS login. Entries engaging "premium data" (login required, such as Living Atlas) must set up the display to permit access without needing a login. See helpful note.
Entries must be "original work by students," but may use data generated by outside persons or institutions, within guidelines of "fair use." (Students are encouraged to use appropriate professionally generated data, but the integration, treatment, and presentation must be original.)
Entries must provide two links in "short URL" format (e.g. http://arcg.is/1A2b3xyz), one linking to the item details page and one linking to the display page.
The California and national competitions will use this rubric (100 points):

(5) topic is clearly identified, meets state's criteria, focuses on content within state borders
(10) overall presentation within the "map product" is effective in informing about topic
(20) cartography is effective, facilitating the viewer's grasp of individual elements of the topic and story
(20) data used is appropriate — engages an adequate volume and array of clearly significant elements, does not exclude clearly significant elements, does not include irrelevant elements; 5 of "total data points possible" are to be reserved for rewarding the creation, documentation, and inclusion of one's own data [0=none, 1=little/weak, 2=some/modest, 3=satisfactory, 4=much/good, 5=most/excellent]
(20) geographic analysis is evident, appropriate, effective (classification, symbolization, filtering, geoanalysis); the "map product" is not "simply uniform dots/lines/areas on a map" nor "simply pictures"
(25) documentation in the item details page is clear and complete; all non-original contents (including images) in the presentation/ web app/ story map are appropriately referenced and/or linked so their sources are clear, and original contents are described and/or linked; documentation identifies processes used to analyze the content, plus any persons who assisted in project (including specifying if no one did)
IV. Personally Identifiable Information (PII)
Schools should consider issues around exposing PII. See http://esri.box.com/agoorgsforschools for strategies for minimizing PII. Teachers should help students minimize exposure of their own PII and that of others, including in map, image, and text.